An LGBTQ Welcoming Congregation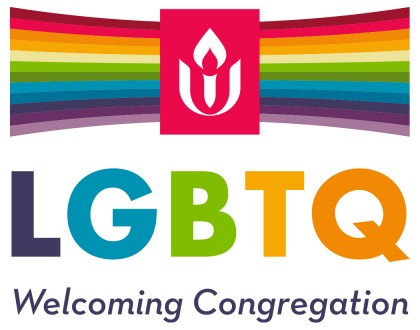 We are a Welcoming Congregation, recognized by the Unitarian Universalist Association. This means we affirm and include people who are lesbian, gay, bisexual, transgender, and queer at every level of congregational life—in worship, in program, and in social occasions—welcoming them as whole people.

As a Welcoming Congregation we have pledged to:
honor the lives of all people and equally affirm displays of caring and affection without regard for sexual orientation.
celebrate diversity by using inclusive language and content in worship.
incorporate an understanding of the experience of lesbian, gay, bisexual,  transgender, and queer persons throughout all of our programs, including religious education.
affirm and celebrate lesbian, gay, bisexual, transgender, and queer issues and history.
affirm marriage equality and conduct same-sex weddings.
advocate for lesbian, gay, bisexual, transgender, and queer people, promoting justice, freedom, and equality in the larger society. We speak out when the rights and dignity of lesbian, gay, bisexual, transgender, and queer people are at stake.
An invitation to Current (and Former) Members and Friends.
As UUCP commits to be a radically inclusive, welcoming community and a "spiritual community for our time," how can we assure that all feel truly welcome? How should we change and how should we stay the same?
The UUCP Inclusion Team invites you to join a vital and ongoing conversation about these questions. In coming months, we will be exploring how congregants come to feel included and excluded based on gender, race, ability, mental health, age, religious background and other factors.
As a first step, we are seeking your stories of gender inclusion and exclusion at UUCP. As a person who identifies as trans, gender nonbinary, gender nonconforming, or gender conforming — what experiences have led you to feel welcomed, or not, at UUCP? As an ally, how have you witnessed gender inclusion or exclusion?
How will these stories be used? First, your experiences will help us educate ourselves and other members. Your responses will be discussed by the team as we assess UUCP's status as a welcoming congregation. Second, your stories will inform the design of welcoming spaces, services, rituals, and social activities. Third, with your permission, and only with your permission, we will work with you to share some of these stories in written or multi-media messages designed to foster understanding and gender inclusion at UUCP. Please join the conversation by sharing your own experiences on this brief (10-15 minutes) survey. Use the link phxuu.org/GenderInclude or scan the QR code.
The UUCP Inclusion Team (Amanda Rogers, Anthony Johnson, Ashley Perez, Courtney Flanagan, Jonny Lifshitz, Katie Quinn, Larry Reed, Margret O'Neall, Vince Waldron)